If science is going to fully serve its societal mission in the future, we need to both encourage and equip the next generation of scientists to effectively engage with the broader society in which we work and live.

– Alan Leshner, CEO of the American Association for the Advancement of Science.
You know "them" don't you? "They" are the people who are going to "fix it." The scientists, technology wizards, engineers, and mathematicians.
They've all highly intelligent.  They've studied trig, calculus, biology, genetics, physics, cosmology, geology, astronomy, and chemistry. They take courses in thermodynamic, quantum mechanic, biochemistry, bioengineering, nuclear and radio-chemistry. They were the kids, a generation ago, who were called "nerds" in high school, that turned from "ugly duckling" to "swan" in adulthood, at least in social status.
No more.
We're eager for them to announce "groundbreaking discoveries."
But  it turns out that biologists and physicists at top research universities, fear that we don't have the language, the capacity, or the interest to hear them……… and they don't have the work incentives, the capacity to "keep it simple stupid," or the time to tell us [1].
Study on Elite Scientists Describes a Complex Social Role
Ten percent of scientific respondents in one study mentioned having technical language barriers in reaching out. The vocabulary that scientists are accustomed to using to describe their work is largely unfamiliar to the layperson.
Take  this course description for a class in micro-electro-mechanical systems (MEMS). While some of my scientific readers can translate, even the course description doesn't help most of us understand it:
 It teaches fundamentals of micro- and nanofabrication techniques, including hard and soft lithography techniques, thin-film fabrication, and etching techniques. Other topics include methods and tools for imaging submicron structures and devices. Applications of MEMS technologies and related BioMEMS are discussed. Local students use research fabrication facilities to build simple MEMS structures and to image them.
The general public may have no idea how to build or  'image' "simple MEMS structures," but they might be confident that anyone who can do it, or  grasp The Planck constant,* ( also called Planck's constant ), is likely to be able to help solve the mess we're facing!
As a biology graduate student in this study explained, unfamiliar vocabulary is only part of the problem.  Scientists have to make sure that the way the concept is described is accessible to the audience: "This sounds mean, but you dumb it down a little bit. And I don't mean to make that sound bad, but necessarily so."
One physicist thought the public's attitude toward–and acceptance of–science would improve if more individuals in the public (starting in grade school) had the opportunity to simply interact with scientists, but how do you make it understandable, in order to keep a layperson's interest?
Say you're a theoretical physicist attempting explain your work to the public.
Part of your work involves String Theory, and to reconcile quantum mechanics and general relativity, in order to possibly have a contender for a theory of everything (TOE)–which is a self-contained mathematical model that describes all fundamental forces and forms of matter.  How long would it take you to simply spell it out so anyone could get it?  A day?  An hour?
Allan Adams, a theoretical physicist, describes what he does for a living in 30 seconds in the PBS Nova TV series (online):  The Secret Life of Scientists and Engineers.  Watch it below:
His excitement, his enthusiasm, even his range of knowledge demonstrated in this his 90 second "10 Questions" section are equally infectious. No wonder people are counting on you, Allan, to help us out of this mess!  And to be able to explain what you're doing, as well!
No Hope for the Rest of Us?
Yet, according to this important study, a quarter of these elite scientists themselves have little hope in being able to stir interest and excitement  in science. [1]  One quarter thought it would be an uphill battle to do outreach to the public. Seventy percent express a perception of public ignorance, while 30 percent blame a disinterest in science.   Others believed that the public views scientists as "snobby intellectuals making a judgment on high."
Yet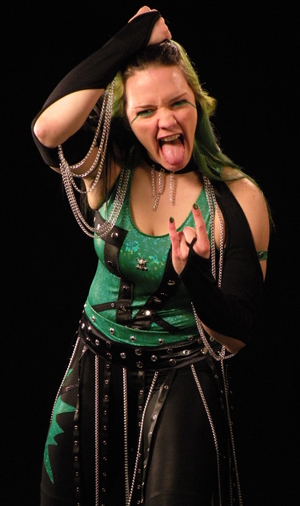 that perception might change  when you watch Microbiologist/Professional Wrestler Rachel Collins toss back her green locks and spit green "mist" at you shouting:
"I am your soul's tormentor!!!!!"
(Her work involves bacteria and antibiotics).
During  a Ring of Honor TV taping, she heard the chant 'we love science!!' from the crowd."
Perhaps Rachel is a bit of a special case…
Scientists are  frustrated with a public that doesn't appreciate "science broadly," and is detached from academic science in particular.
They see the public as simply apathetic, or even opposed to learning about science and the scientific process. But Gen X'er like Katharine Hayhoe bridges both worlds as both an Evangelical Christian, and a climate change advocate.  She's one of the "trustables," that I'll be talking about in an upcoming post: a person who is believed, because she is known and trusted.
The Secret Life of Scientists and Engineers depicts scientists and engineers as real people the public can relate to; real people we or our children might want to grow up to be.  Why isn't there more of this?
Why do only 5 % of the most active public scientists do half of all outreach to the public? [2]
The Dreaded "Sagan Effect" [3]
I think that people look down on the popularizer, and I think that's a real big mistake personally. I think that popularizers are important, and being able to explain stuff to the public is really important. And so I don't think we should, you know, denigrate those people at all [laughs].
The Sagan Effect is the attitude that scientists who spend time publicizing their research to the public, consequently have less time available for rigorous scientific research. Some scientists fear what their colleagues might say about them if they are seen to be mere "popularizers" like Sagan. They may also be concerned about the professional stigma attached to spending too much time translating one's research to the broader public.
Some respondents view outreach as a misuse of their valuable time (they work 59 hours a week)– time that could be better spent on research. There is a widespread belief that "going public" would be detrimental to career advancement or prestige, so they limit the dissemination of research findings to peer-reviewed journals  They are worried that to "dumbed-down" science will reflect badly on them. They also feel little institutional assistance or approval for outreach programs, and don't have the knowledge about how to do it, or the time to find out.
About 21 percent of respondents in this same study engage in science outreach efforts that target the general public– activities such as giving public lectures or writing science books for non-specialists. Another 6 percent aim their outreach at another specific group, for example, those in the private investment sector.
Others, want to see the emergence of a new, iconic figurehead, someone who wouldn't be impacted by collegial criticism and who might lead nationwide scientific outreach efforts. "Someone like a Nobel laureate" as the study quoted one scientist, who is well respected by both the scientific community and the general public.
Tongue-Tied By Science!
Some researchers argue that scientists believe they lack personal communication skills, or confidence in their abilities to do outreach.  Some worry they might actually damage the public's perception of science if they engage in outreach activities.
Twenty-nine percent of all respondents on one study say that scientists are poor interpersonal communicators (or that non-scientists see them as inept, regardless of their actual abilities.) The study quoted one male biologist as saying:
"I'm not sure you want most of the people that I know here to go out and try to talk to the public. They're [the public] gonna say 'stop spending my tax dollars on this person!'"
Yet only two respondents (2 percent of the sample) suggested training scientists how to be better communicators.
What do Scientists Say about Their Lives?
So this extensive study describes these elite scientists as somewhat reluctant and ambivalent communicators to the general public.  In future posts I'll review the literature that attempts to answer the following questions:
What do scientists think about their careers and family lives?
What are the psychological burdens of being counted among the elite vanguard advancing scientific knowledge?
What do these scientists and engineers think about their work /personal life balance?
What are the spousal challenges particular to elite scientists and engineers?
And how does having children change the way they decide to engage with the rest of us?
Join me, as I discuss the implications of this fascinating and revealing research project .
* The  Planck constant is a physical constant reflecting the sizes of energy quanta in quantum mechanics.
[1] Ecklund EH, James SA, Lincoln AE (2012) How Academic Biologists and Physicists View Science Outreach. PLoS ONE 7(5):e36240. doi:10.1371/journal.pone.0036240
[2] Jensen P, Rouquier JB, Kreimers P, Croissant Y (2008) Scientists connected with society are more active academically. Science and Public Policy 35(7): 527–541.
[3] Shermer MB (2002) The view of science: Stephen Jay Gould as historian of science and scientific historian, popular scientist and scientific popularizer. Social Studies of Science 32: 489–524.