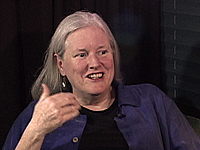 Peak Moments Television is airing a show I did last fall with the ever-delightful Janai Donaldson. She named the show after one of my favorite Fireside Theatre 1971 albums entitled "I Think We're All Bozos on this Bus." It's a phrase I've used a lot in my writings.
Listen to the Audio.
Peak Moment 199: "My own reaction seemed so crazy to me," says psychologist Kathy McMahon of her response to Peak Oil. Wondering if she was the only "wacko", she started the Peak Oil Blues blog to explore her own and readers' responses. As the "Peak Shrink," Kathy formulated a delightfully tongue-in-cheek "Panglossian Disorder" — an unrealistic optimism about the future. She will soon publish ?I Can?t Believe You Actually Think That! A Couple?s Guide to Finding Common Ground about Peak Oil, Climate Catastrophe, and Economic Hard Times." (peakoilblues.com, feistylife.com).
You help make a difference in the world by supporting Peak Moment TV. Contribute at http://www.peakmoment.tv.
For those new to my site, the Peak Oil Blues.com site was hacked a while back, so many of the links are still not working.  However, I've added the text to "Life Stages" on the left panel, so you can read the original material here.  It will take a while to find a webmaster with spare time to link things back up.  Sorry for the inconvenience.